From today, Lecce will host the first "South Edition" of the BioInItaly Investment Forum. Delli Noci: "Circular economy and biotechnology are strategic objectives for Puglia"
Internationalization and investment attraction
In the foreground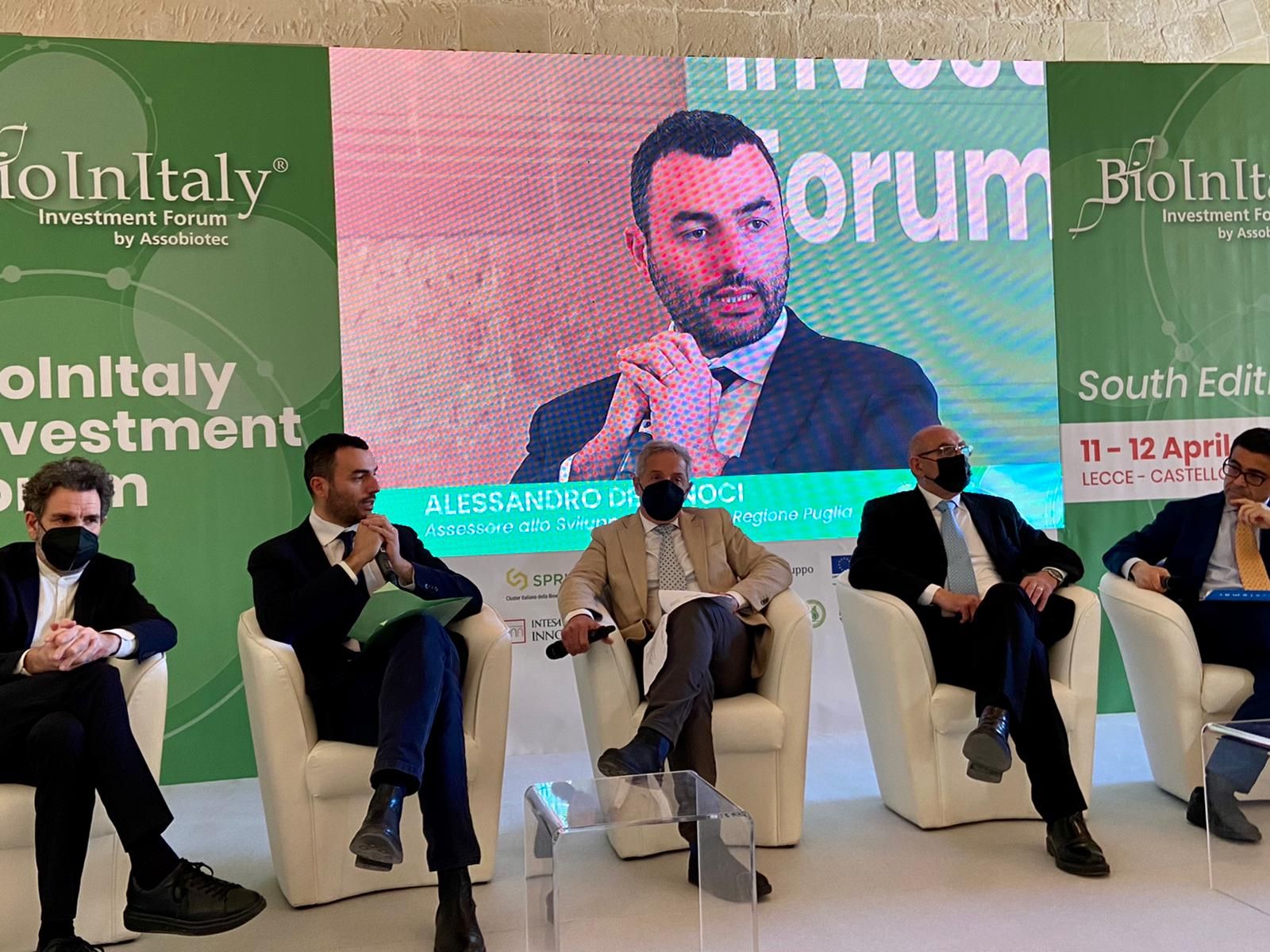 Investment and development opportunities and progresses were presented, especially in the field of circular Bioeconomy, also for companies in the South. In Puglia, a value added of 5.2 billion euros.
Lecce, 11 April 2022 – A value added of 5.2 billion euros and an employment level of 183 thousand workers. With these numbers, the Apulian Bioeconomy ranks 3rd among Italian regions for employment and 8th for value added. The latter represents 7.5% of the regional value added, while the employment level represents 13.2% of the regional total employment.
This is what emerged today during the first day of the "BioInItaly Investment Forum", the reference event for innovation in the field of biotechnologies and circular Bioeconomy, that Puglia Region wanted in Lecce and for the first time in the South.
In the location of Carlo V Castle, after the welcome messages, the first session opened with the presentation of Intesa Sanpaolo 2021 Report dedicated to the Bioeconomy in Italy.
In 2020 in our Country, the Bioeconomy - as a system that uses biological resources, including waste, as an input for the production of goods and energy - generated an output of 317 billion euros, occupying just under 2 million people.
In Italy, the development potential of the Bioeconomy from a circular perspective is high and widespread throughout the national territory. Value added estimates among Italian regions highlight a particular role of the Southern regions, where the Bioeconomy represents 6.7% of value added and 10.7% of total employment (year 2018).
Organized by Federchimica Assobiotec, National Cluster of the Circular Bioeconomy SPRING and Intesa Sanpaolo Innovation Center, in collaboration with Puglia Region, Puglia Sviluppo and with the support of ITA, Invest in Italy, LGCA, and Bioeconomy Ventures, BioInItaly Investment Forum - South Edition, in the afternoon session attended by experts and leading companies in the sector, allowed to examine in depth the evolution of the Bioeconomy in Italy and to learn about the trends and opportunities that biotechnologies can offer in order to achieve the sustainable development goals envisioned by European and national policies.
After the presentation of Intesa Sanpaolo Report, the event continued with a session on "Research and Innovation for Italian recovery and resilience", attended by representatives of the Universities of Campania and Salento, Enea, Acquedotto Pugliese and the H-Bio Technological District.
In its fourteen national editions, the BioInItaly Investment Forum has raised over 70 million euros in favor of innovative biotech companies and business projects in search of new funds.
Important investors were also present in this first edition in the South. In particular, the representatives of Cetma, Indaco Sgr, Kiverdi, Intesa Sanpaolo Innovation Center, Bioeconomy Ventures, NatureWorks, and TerraNext, who animated the "Investing in the ecological transition: Italy in the international competition" session.
Several interventions commented the first day:
Alessandro Delli Noci, Council Member for Economic Development of Puglia Region
"The circular economy is one of the objectives of the industrial policies of Puglia Region and biotechnologies are a strategic sector for us, with an export value to the world of over 656 million euros in 2021, more than 7.6% of the entire export turnover of Puglia. Biotechnologies have a thousand facets and, while starting from human health, they invest across every economic sector, with the advantage of spreading innovative processes and products. Puglia has achieved important results in various biotechnology sectors. Today, our innovative companies and regional policies are ready for the new challenges of the circular Bioeconomy. In such a context, startups which show particular brilliance can make the difference. This is why we are proud to have brought the first edition of the "BioInItaly Investment Forum" to Puglia, in the South. We are confident that it will fuel the development and attraction of new investments in Puglia".
Elena Sgaravatti, Vice President Assobiotec - Federchimica
"Biotechnologies represent a tool of great importance and an extremely interesting perspective in the current global socio-economic context since they can make a relevant contribution to sustainable development, a prosperous and environmentally friendly economy, less dependent on fossil fuels and non-renewable resources. In our Country there is a very fertile fabric of biotech start-ups and biotech SMEs: many ideas and projects of great value that can represent an essential element to guide the transition towards an economy based on resource efficiency and waste valorisation. These companies, however, often struggle to move to a growth phase and to consolidate their business, also due to lack of funds and financing. As Assobiotec, we have been working for 14 years at the BioInItaly Investment Forum to ensure that more and more innovative ideas can meet capital and have concrete development. Seeing a newborn "South edition" fills us with pride."
Mario Bonaccorso, Director of the SPRING Cluster
"The Lecce event represents an important opportunity for reflection and discussion on the themes of innovation and ecological transition, in a particular moment of human evolution, where the dissipative and profit-oriented development model is severely tested by the evidence of the dramatic effects of climate change, but also by the pandemic and the tragic war in Ukraine. There is no ecological transition without a circular and sustainable Bioeconomy and without innovative companies. In Lecce we talk about this and the strategic role that the Regions have in favoring the change of paradigm. I thank Puglia Region, which has joined our permanent Table of Regions since the constitution of the SPRING Cluster, for bringing this forum in the beautiful city of Lecce. I am sure that, also thanks to the Next Generation EU, Southern Italy will be able to rediscover its central role in research, innovation and value creation, in full harmony with the environment surrounding us and with the health of human beings and animals".
Maurizio Montagnese, President of Intesa Sanpaolo Innovation Center
"Sustainability and circular economy are taking on an increasingly important role in this context of great transformation for companies, accelerated by the latest geopolitical events. Our Group has always stood out for its attention to the circular Bioeconomy and its promotion, publishing the Report on the Bioeconomy in Europe since 2012 and promoting the BioInItaly Investment Forum from its origins, in support of business initiatives in the field of Life Sciences. We are particularly pleased to extend this initiative to Puglia, where we want to attract startups, investors and companies to build a sustainable future together for the growth of the next generations".
Participants in today's sessions: Mario Bonaccorso, Director of the SPRING Cluster; Carlo Maria Salvemini, Mayor of Lecce; Fabio Pollice, Rector of the University of Salento; Nicola Delle Donne, Regent President of Confindustria Lecce; Alessandro Delli Noci, Council Member for Economic Development of Puglia Region; Laura Campanini, Research Department of Intesa Sanpaolo; Amedeo Lepore, University of Campania L. Vanvitelli and SPRING; Vito Grassi, VP Confindustria with responsibility for Territorial Cohesion; Grazia Barberio, ENEA Sustainability Department; Francesca Portincasa, Acquedotto Pugliese; Maria Svelto, H-Bio Technological District; Alessandro Sannino, University of Salento; Giovanni Ronco, Confindustria Puglia; Marco Alvisi, Cetma; Antonella Beltrame, Indaco Sgr; Marcello Somma, Kiverdi; Massimiano Tellini, Intesa Sanpaolo Innovation Center; Filippo Martinelli, Bioeconomy Ventures; Mariagiovanna Vetere, NatureWorks; Marco Noseda, TerraNext.
Tomorrow, the second and final day, will be dedicated to financing and investing in innovation, with the participation of Puglia Sviluppo, ITA, and the European Circular Bioeconomy Fund.
The Arena Investment Meeting will close the two days with the presentation, to a panel of investors and finance experts, of six innovative startups that have devised concrete solutions for sustainable development and growth in the Country. Of these, three are from Puglia.
BioInItaly Investment Forum is an event that allows innovative biotechnology companies and business projects, looking for new funds, to meet investors from all over the world. Born in 2008 by the will of Assobiotec, BioInItaly Investment Forum, since 2010, has been supported by the Intesa Sanpaolo Start-up Initiative and, since 2015, has been preceded by a national roadshow aimed at collecting and selecting the most interesting projects. The 2022 edition is organized by Assobiotec, Intesa Sanpaolo Innovation Center and SPRING Cluster. The South Edition was organised in collaboration with Puglia Region, Puglia Sviluppo and the support of ITA, Invest in Italy, LGCA, and Bioeconomy Ventures.